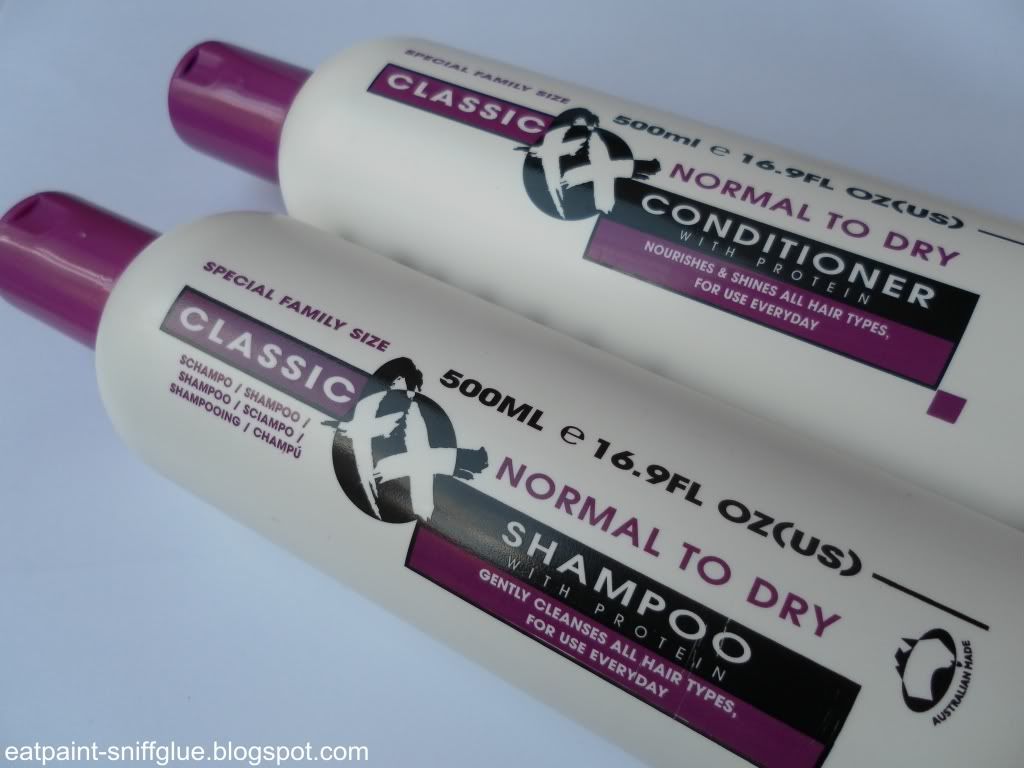 Classic FX could accurately be introduced at parties as the PPS range's older, less attractive sister. You know, the one who still wears scrunchies without a hint of shame? That's Classic FX. Just look at the packaging. So retro. The name! FX = effects. Genius.
Plus, it's significantly cheaper. AU$7.50 for a 500ml bottle.
The Shampoo
Claim: Classic FX Normal to Dry Shampoo keeps the hair and scalp clean using a gentle cleanser that can be used as often as required.
I wouldn't call this shampoo 'gentle'. It's very effective at removing product build up, however it does strip my hair of its natural oils. Like all other shampoos with Sodium Laureth Sulphate, you'd be a fool to expect anything else.
For dry, damaged hair that is as prone to frizz as mine, I shampoo from the roots to somewhere mid-length and let the shampoo run through the ends only while rinsing. This has saved my ends from making like a banana and splitting. Pun intended as the highlight of the Classic FX shampooing experience is its smell: banana lollies. Truly the work of wizards.
The Conditioner
Claim: Classic FX Normal to Dry Conditioner is a light conditioning rinse that smoothes the cuticle to promote easy combing and manageability and is suitable for all hair types.
Stop trying to appeal to the masses and tell the truth, Classic FX. You're not light and certainly not a rinse. You're thick, luxurious and made of dreams.
I'm a greedy girl when it comes to scalp follicles. I've probably got enough hair for two and a half people. Before Classic FX, I never dreamed of running a comb through my hair. Think Hermione Granger. Well, now it's a regular thing. Matted, unruly birds nest be gone.
My only complaint about this bubblegum scented treat for the hair is petty and most likely to be construed as bragging (because it is): I've had to buy a new type of hair tie to prevent my 'do from slipping. That's how soft it has made my hair.
My boyfriend doesn't feel his position is threatened by other men. A conditioner on the other hand...